Shopping on Amazon without a Prime Membership is like drinking non alcoholic beer… it just isn't the same. Yes, that's right folks, it is impossible to shop on Amazon like a BOSS without having an Amazon Prime Membership. So get one TODAY, because its time to stop purchasing like a pauper and start ordering like a king!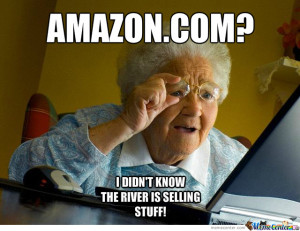 Is Amazon Prime right for me?
First of all, Amazon offers a FREE 30-Day Trial! This should be enough for you to stop reading and start ordering right now. However, if you're still not convinced then keep on reading, pauper.
So, you're still not sure? Well, if you hate saving money, love wasting time and find yourself dying to stand in long checkout lines while the baby behind you cries and the teenage girl in front of you talks on her phone, "like totally OH MY GAWD", then Prime probably isn't for you.
For everyone else however…
Joining Amazon Prime is the single smartest thing you can to today!!!!
Seriously, what are you going to do today that's smarter than that? I would tell you to add up the savings, but everyone knows you failed math! :p
Speaking of math…
Can I afford Prime?
Below are the numbers:
Average shipping cost on Amazon: $9.99
Amazon Prime cost / year: $99
Number of orders required to break even: 10
With less than one order per month, you break even on shipping costs vs. the cost of your Amazon Prime Account. After that, any orders you place will essentially have FREE SHIPPING. Plus all Prime orders receive free two day shipping!
All Prime Benefits
Reasons I like Prime
I love shopping on Amazon for more reasons than I could possibly list on one page. However, here are just a few:
Items are delivered directly to me. This means:

NO traveling to the store
NO navigating the store's aisles to find the right product
NO crowds
NO waiting in line
NO traveling home from the store

Item prices are generally cheaper than in the store
It is super easy to re-order items
The Final Decision
Amazon Prime is smart. You're smart. Therefore, you're joining Amazon Prime NOW!